Choral Conversations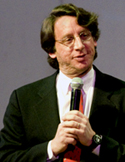 At our concerts that are designated Choral Conversation Concerts, Music Director Tom Hall introduces the music on the program, in an easy, casual, informative way. Knowing something about what the composers are trying to achieve helps us to understand and appreciate the music, and enhance our enjoyment. Sometimes Mr. Hall speaks during the concert, and sometimes he leads discussions before or after the program.
Friday, October 07, 2016
7:00 PM •
The Baltimore Choral Arts Society, in collaboration with The Open Church of Maryland, will present the 3rd annual Free Community Sing. A wonderful night filled with spirituals and gospel music. There is no experience required; singers of every level are welcome. Music Director Tom Hall and Baltimore Choral Arts, Music Director Marco Merrick and the Community Concert Choir of Baltimore, along with our inspiring guest conductor, Michele Fowlin, invite you to join us for an evening of fellowship and music!
This event is free and open to the public. There will be no tickets and seating will be first come, first served.
The voices rang out with resplendent confidence, and the sopranos had no apparent difficulty reaching the cruel and challenging high B's in the piece. The chorus's performance was the best part of the concert….the thunderous power of this unique masterpiece never fails to stir the blood, and the ovation was loud, long and well deserved.
— On Beethoven's Ninth with the Baltimore Symphony 2012
The Washington Post