Programs for Students
Baltimore Choral Arts Society's
2016 Student Composer Project
The Baltimore Choral Arts Society is pleased to announce the 2016 Student Composer Project, now in its 26th year. The project offers three composers the opportunity to have their works performed by Tom Hall, Leo Wanenchak, and the BCAS Chamber Chorus in a public Master Class in the spring of 2016.
Selected composers will receive the opportunity to work with an experienced composer in the field prior to the event, and will receive further feedback and suggestions from composers and singers during the Master Class. A recording of the performance will be given to each composer.
2016 Guidelines for Submission of Compositions
Composers must have been enrolled in high school or college as of December 31, 2015. Composers whose works have not been chosen previously will be given preference. More than one composer's work will be featured in this event. The piece must be no longer than five minutes long. The work may be scored for Chorus and Piano or Unaccompanied Chorus.
All compositions must be newly composed works. Arrangements of pre-existing compositions (i.e. carols, etc.) will not be considered. The text may be sacred or secular, in any language. The composer must secure copyright and permission to use published texts.
Deadlines for Submission of Compositions: March 31, 2016

Submit electronic manuscript to:
It will be the responsibility of the composers whose works are chosen to have piano/vocal scores typeset and copyrighted. BCAS can assist composers in this process. Hand-written manuscripts will not be used.
Master Class
Tuesday, May 10, 2016

The new works will be performed by Tom Hall, Leo Wanenchak and members of the BCAS Chamber Chorus. Biographies of the composers and texts of the works will appear in the program. Composers will get feedback and suggestions from the participating Master Teacher, and the singers. A recording of the performance will be given to each composer.
Student Composer Project Composer Mentors
John Belkot's "[music] carries listeners into aesthetic regions at the intersection of preconceived boundaries of expectation to find unexpected moments of beauty," (Classical Guitar Magazine). The recipient of Peabody's 2014 Macht Prize for Orchestral Composition, Belkot's music is performed throughout the United States. Recent regional performances include The National Gallery of Art, The Walters Art Museum, and the College Music Society's 54th National Conference in Richmond. In addition to composing, Belkot is on faculty at the Peabody Preparatory, teaches privately, and is the Choirmaster at Mt. Calvary Church in Baltimore. He lives in Charles Village with his wife, Adri and their two dogs.
Joshua Bornfield has been called "a completely original voice" (Phyllis Bryn-Julson) whose award-winning work has "organic power" (Tim Smith, Baltimore Sun). His recent opera "Uncle Alex," written for Washington National Opera, received universal praise in the media. Also an avid performer, Joshua regularly sings with the Baltimore Choral Arts Society and Third Practice.
Douglas Buchanan serves as Organist and Choirmaster of St. David's Episcopal Church, composition faculty at Dickinson College, and music theory and musicology faculty at the Peabody Conservatory. In addition to singing in the Baltimore Choral Arts Society with his wife, Kelly, he enjoys microtonal interspecies improvisation with his black lab puppy, Grover. You are invited to visit his website, www.dbcomposer.com, to learn more.
Michael Rickelton's works have been played by the organizations including the Nashville, Baltimore, and Peabody Symphony Orchestras, the Baltimore Choral Arts Society, the Pacific Chorale's John Alexander Singers, and the Washington National Cathedral Choir. His setting of Dana Gioia's Pentecost was recently released by Delos records on American Voices, the latest recording from the John Alexander Singer.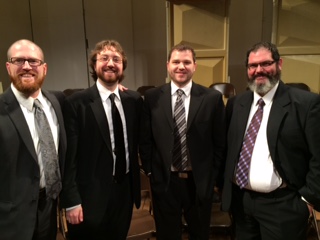 The Student Composer Project encourages young people to compose music for chorus. This annual event has been a great success since its inception in 1990.
Master Classes with visiting artists are a frequent dimension of our educational outreach programs. Past master classes have featured the King Singers, Chanticleer, Alice Parker, and other acclaimed artists.
Tom Hall is often invited to present workshops and master classes with teachers and students in area schools. For more information about Mr. Hall's availability, please contact Choral Arts at info@BCAsings.org.
Baltimore Choral Arts' education programs receive generous support from the Sheridan Foundation, the Witt/Hoey Fund, and the Macht Fund of THE ASSOCIATED.
Friday, October 07, 2016
7:00 PM •
The Baltimore Choral Arts Society, in collaboration with The Open Church of Maryland, will present the 3rd annual Free Community Sing. A wonderful night filled with spirituals and gospel music. There is no experience required; singers of every level are welcome. Music Director Tom Hall and Baltimore Choral Arts, Music Director Marco Merrick and the Community Concert Choir of Baltimore, along with our inspiring guest conductor, Michele Fowlin, invite you to join us for an evening of fellowship and music!
This event is free and open to the public. There will be no tickets and seating will be first come, first served.
The voices rang out with resplendent confidence, and the sopranos had no apparent difficulty reaching the cruel and challenging high B's in the piece. The chorus's performance was the best part of the concert….the thunderous power of this unique masterpiece never fails to stir the blood, and the ovation was loud, long and well deserved.
— On Beethoven's Ninth with the Baltimore Symphony 2012
The Washington Post