Christmas for Kids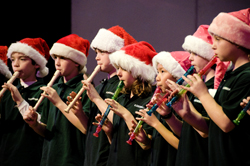 Presented on a Saturday morning, "Christmas for Kids" gives children the chance to share the excitement of a live concert with parents, grandparents, and siblings.
"Christmas for Kids" is about an hour long, and it features playful characters, a story with music and movement, and familiar sing-along carols. Santa Claus makes an appearance too. It's the perfect way to introduce your children to the joys of classical music.
This season's "Christmas for Kids" concert will be performed on Saturday morning, December 20, 2014 at 11 am in Goucher College's Kraushaar Auditorium
Sunday, April 26, 2015
3:00 PM • Kraushaar Auditorium
Tom Hall leads the full Chorus and string orchestra in poignant and powerful settings of "Dona Nobis Pacem" by Ralph Vaughan Williams and Peteris Vasks as well as Arvo Pärt's beautiful meditation, "Da pacem Domine." Vocal soloists including soprano Hyunah Yu and bass-baritone Robert Cantrell, and the program also includes the local premiere of a jointly-commissioned motet by composer Jake Runestad.
"A Choral Conversation" follows the performance featuring Tom Hall and special guests including Chic Dambach, discussing the role that music and the arts play in peace-building. Writer, lecturer and consultant, Chic Dambach was President and CEO of the Alliance for Peacebuilding. Author of the book Exhaust the Limits: The Life and Times of a Global Peacemaker, Chic serves on the boards of the Alliance for Peacebuilding, Institute for Economics and Peace, International Peace and Security Institue, Peace x Peace, the Institute for Horn of Africa Studies, and Future Symphony.
The voices rang out with resplendent confidence, and the sopranos had no apparent difficulty reaching the cruel and challenging high B's in the piece. The chorus's performance was the best part of the concert….the thunderous power of this unique masterpiece never fails to stir the blood, and the ovation was loud, long and well deserved.
— On Beethoven's Ninth with the Baltimore Symphony 2012
The Washington Post