Auditions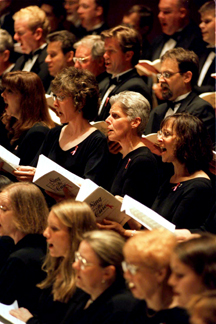 Come Sing With Us!
Auditions for the Baltimore Choral Arts Symphonic Chorus, the Full Chorus, and the Chamber Chorus for the 2015-16 Season have concluded. We are not scheduling any more auditions for this season at this time. If you are interested in receiving information about auditions for the 2016-17 Season, please contact Hannah Malloy by email, at hannah@baltimorechoralarts.org.
Tuesday, December 01, 2015
7:30 PM • The Baltimore Basilica
Tom Hall leads the Chorus and orchestra in this holiday program which includes beloved Christmas favorites in the historic setting of The Baltimore Basilica.
Open seating within sections.

BGE is the Presenting Sponsor of Christmas with Choral Arts.
The voices rang out with resplendent confidence, and the sopranos had no apparent difficulty reaching the cruel and challenging high B's in the piece. The chorus's performance was the best part of the concert….the thunderous power of this unique masterpiece never fails to stir the blood, and the ovation was loud, long and well deserved.
— On Beethoven's Ninth with the Baltimore Symphony 2012
The Washington Post