Community Concerts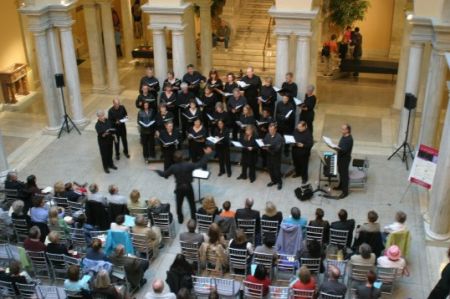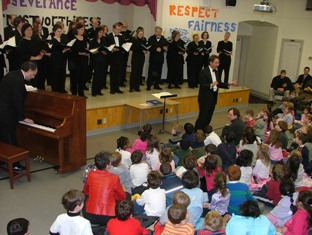 In addition to our own presentations, the Baltimore Choral Arts Society Full Chorus and Chamber Chorus performs throughout the region in collaboration with musical and community organizations. Please contact the venue directly for ticket availability.
2014-15 Season Community Concerts:
Sunday, September 14 at 5 pm - Star Spangled Banner concert at Old St. Paul's Church
Saturday, December 20 at 3 pm - Immanuel Lutheran Church
Sunday, March 1 at 3 pm - Charlestown Retirement Community
Tuesday, March 24 at 7:30 pm - Fairhaven Retirement Community
Wednesday, March 25 at 7 pm - Broadmead Retirement Community
Sunday, April 19 at 7:30 pm - United States Naval Academy
Sunday, April 26, 2015
3:00 PM • Kraushaar Auditorium
Tom Hall leads the full Chorus and string orchestra in poignant and powerful settings of "Dona Nobis Pacem" by Ralph Vaughan Williams and Peteris Vasks as well as Arvo Pärt's beautiful meditation, "Da pacem Domine." Vocal soloists including soprano Hyunah Yu and bass-baritone Robert Cantrell, and the program also includes the local premiere of a jointly-commissioned motet by composer Jake Runestad.
"A Choral Conversation" follows the performance featuring Tom Hall and special guests including Chic Dambach, discussing the role that music and the arts play in peace-building. Writer, lecturer and consultant, Chic Dambach was President and CEO of the Alliance for Peacebuilding. Author of the book Exhaust the Limits: The Life and Times of a Global Peacemaker, Chic serves on the boards of the Alliance for Peacebuilding, Institute for Economics and Peace, International Peace and Security Institue, Peace x Peace, the Institute for Horn of Africa Studies, and Future Symphony.
In collaboration with Baltimore Choral Arts, the Maryland Film Festival will be screening the film "Brasslands" on Tuesday, April 21 at 7:30 pm at MICA's Brown Center. Created by Meerkat Media, and largely funded fom a kickstarter campaign, the film depicts the tradition of Balkan brass band music through the 50th anniversary of the world's largest trumpet festival in Serbia, a festival that has survived 50 years of war and genocide, and attended by 500,000 people. The film embeds the viewer in the celebration of the annual competition, and spotlights a public school teacher and her students from Brooklyn, New York that compete in the competition. Tom Hall will interview the film's director, Bryan Chang, as part of the presentation. Tickets for the film are $10 and free for Maryland Film Festival members, and MICA students and faculty with ID. For more information about the film and to view the trailer, go to www.md-filmfest.com.
The voices rang out with resplendent confidence, and the sopranos had no apparent difficulty reaching the cruel and challenging high B's in the piece. The chorus's performance was the best part of the concert….the thunderous power of this unique masterpiece never fails to stir the blood, and the ovation was loud, long and well deserved.
— On Beethoven's Ninth with the Baltimore Symphony 2012
The Washington Post