Community Concerts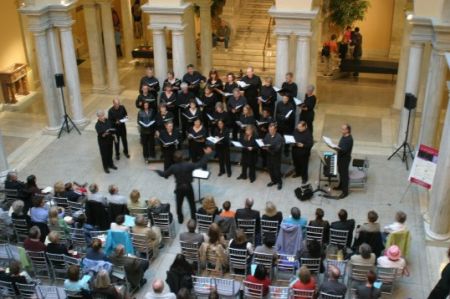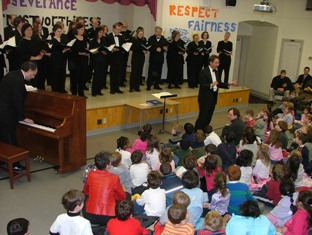 In addition to our own presentations, the Baltimore Choral Arts Society Full Chorus and Chamber Chorus performs throughout the region in collaboration with musical and community organizations. Please contact the venue directly for ticket availability.
2015-16 Season Community Concerts:
Friday, October 9 at 7 pm - Free Community Sing - Second English Lutheran Church
Sunday, November 8 at 3 pm – Free Concert - Calvary Lutheran Church | For more information call Barbra Sommer at 410-426-4302
Tuesday, December 8 at 7:30 pm - Fairhaven Retirement Community
Wednesday, December 9 at 7 pm - Broadmead Retirement Community
Saturday, December 12 at 3 pm - Immanuel Lutheran Church
Sunday, April 3 at 3 pm - Charlestown Retirement Community
Sunday, April 17 at 3 pm - Catonsville Presbyterian Church
Sunday, April 24 at 7:30 pm - United States Naval Academy
Sunday, March 20, 2016
3:00 PM • Kraushaar Auditorium
Tom Hall leads the full Chorus and Orchestra in a performance representative of Choral Arts' 50 years. The program includes a work by Choral Arts' first Music director, Theodore Morrison, as well as the Mozart Requiem with guest soloists Janice Chandler Eteme, John Wesley Wright, Krista River and Kevin Deas, the world premiere of Hallelu Yah! by Baltimore composer James Lee III, and concludes with a rousing Hallelujah Chorus featuring Choral Arts chorus members, past and present.
The audience is invited to a champagne reception immediately following the performance.
Reserved Seating.

Brown Advisory is the corporate Sponsor for Hallelujah: Choral Arts Celebrates 50 Years.

The voices rang out with resplendent confidence, and the sopranos had no apparent difficulty reaching the cruel and challenging high B's in the piece. The chorus's performance was the best part of the concert….the thunderous power of this unique masterpiece never fails to stir the blood, and the ovation was loud, long and well deserved.
— On Beethoven's Ninth with the Baltimore Symphony 2012
The Washington Post