Sunday, October 30, 2016
Love & Destiny: From Brahms to Edgar Allan Poe
Tickets are no longer available for purchase online. Tickets will be available for purchase at the door.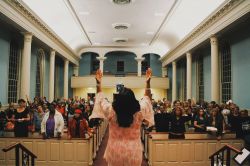 Reading Symphony Music Director Andrew Constantine leads his orchestra and the Baltimore Choral Arts Chorus in the opening concert of the season. The program includes Dark Bells by composer Jonathan Leshnoff, a cantata inspired by the poetry of Edgar Allan Poe, featuring Baltimore Symphony violist Peter Minkler. The concert also features Brahms' Tragic Overture and Schicksalslied, and Vaughan Williams' Flos Campi. After the concert, Tom Hall will lead a discussion with the artists.
Many thanks to our Presenting Sponsor T. Rowe Price for their generous support.


Save
3:00 PM
@Kraushaar Auditorium