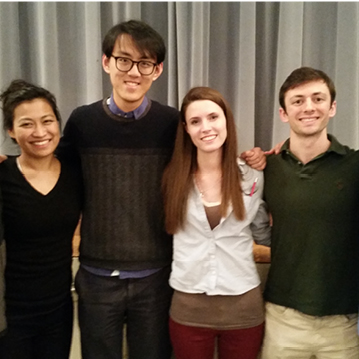 Baltimore Choral Arts Society Student Programs
Student Composer Project
Monday, May 7, 2018
The Student Composer Project encourages young people to compose choral music. This annual event has been a great success since its inception in 1990. The Baltimore Choral Arts Society's Student Composer Project is now in its 28th year. The project offers several student composers the opportunity to receive feedback on their works from a well-known guest composition clinician, Music Director Anthony Blake Clark, Associate Conductor Leo Wanenchak, and the BCAS Chamber Chorus in a Master Class in the spring of 2018. Selected composers will receive the opportunity to work with an experienced composer prior to the event, and will receive further feedback and suggestions from the clinician, composers and singers during the Master Class. A recording of the read-through of their work will be given to each composer. The day prior, students accepted into the Student Composer Project will attend the BCAS rehearsal, concert, and round-table discussion on May 6th with Anthony Blake Clark and the guest composition clinician to discuss how the works being performed by the chorus are well-written for voices and how composition students might use these concepts in their own choral writing.
2017-18 Guidelines for Submission of Compositions
Composers must commit to traveling to Baltimore for the Master Class and have been enrolled in high school or college as of December 31, 2017.
Composers whose works have not been chosen previously will be given preference.
The piece must be no longer than five minutes long.
The work may be scored for Chorus and Piano or Unaccompanied Chorus (mixed chorus, women's chorus, or men's chorus).
All compositions must be newly composed works. Arrangements of pre-existing compositions (i.e. carols, etc.) will not be considered. The text may be sacred or secular, in any language. The composer must secure copyright and permission to use published texts.
Hand-written manuscripts will not be used
Deadlines for Submission: March 21, 2018
Submit Manuscript to:
Mail: Baltimore Choral Arts Society, 1316 Park Avenue, Baltimore, MD 21217
Email: karena@BCASings.org.
For questions and further information call Karena Ingram at 410-523-7070 ext 306, or e-mail karena@BCASings.org.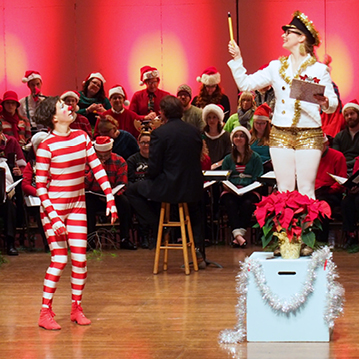 Christmas for Kids
Presented on a Saturday morning, Christmas for Kids gives children the chance to share the excitement of a live concert with parents, grandparents, and siblings.
Christmas for Kids is about an hour long, and it features playful characters, a story with music and movement, and familiar sing-along carols. Santa Clause makes an appearance too. It's the perfect way to introduce your children to the joys of classical music.
The 2017-2018 season's Christmas for Kids concert will be performed on Saturday, December 16, 2017 at 11am in Goucher College's Kraushaar Auditorium.