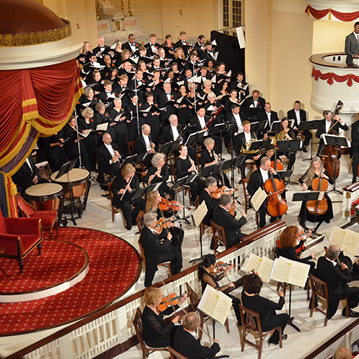 History of Baltimore Choral Arts Society
The Baltimore Choral Arts Society, now in its 53rd season, is one of Maryland's premier cultural institutions. The Symphonic Chorus, Chorus, and Chamber Singers perform throughout the mid-Atlantic region, as well as in Washington, D.C., New York, and in Europe. Blake Clark joined Baltimore Choral Arts as Music Director in July, 2017, and Tom Hall was named Music Director Emeritus.
For the past 21 years, WMAR Television, the ABC network affiliate in Maryland, has featured Choral Arts in an hour-long special, Christmas with Choral Arts, which won an Emmy Award in 2006. The ensemble has been featured frequently on The First Art (Public Radio International), Performance Today (National Public Radio) and VOX (XM Radio). In Europe, Choral Arts was featured in a program devoted to the music of Handel broadcast on Radio Suisse Romande. On local radio, Baltimore Choral Arts featured on Choral Arts Classics, a program on WYPR Radio hosted by Music Director Emeritus Tom Hall that features the Choral Arts Chorus and Orchestra.
In 2010, under the direction of then-Music Director Tom Hall, Choral Arts released Christmas at America's First Cathedral on Gothic Records, recorded at the Baltimore Basilica, which includes familiar Christmas favorites as well as premieres by Rosephanye Dunn Powell and James Lee, III. A recording with Dave Brubeck, featuring Brubeck's oratorio, The Gates of Justice, was released internationally on the NAXOS label in 2004; Choral Arts is also featured on Introducing the World of American Jewish Music on Naxos. Choral Arts has two other recordings in current release: Christmas with Choral Arts and a live recording of the Rachmaninoff All-Night Vigil.
Acclaimed artists collaborating with Choral Arts have included Sweet Honey in the Rock, Chanticleer, Dave Brubeck, the King's Singers, Anonymous 4, Peter Schickele, Kathy Mattea, and others. Baltimore Choral Arts' innovative programs often feature both choral and orchestral musics, stage and theater works.
Currently leading his second season as Music Director of the nationally acclaimed and Emmy Award-winning Baltimore Choral Arts Society, conductor and composer ANTHONY BLAKE CLARK enjoys a reputation as one of the freshest young voices in classical music. During his inaugural season with the Baltimore Choral Arts Society, Mr. Clark received rave reviews for their own programs, prepared them for performances with the Baltimore Symphony Orchestra and made his television conducting debut with ABC's "Christmas with Choral Arts" holiday production. Mr. Clark is also Director of Choral Activities in The George Washington University's Corcoran School of Art and Design, where he conducts the University Singers and vocal chamber ensembles, as well as mentoring student conductors.
Appreciated for his scrupulous attention to detail, Anthony Blake Clark has prepared choruses for esteemed maestri Sir John Eliot Gardiner, Simon Halsey, CBE and Gijs Leenaars for concerts with internationally renowned ensembles, including the Baltimore Symphony Orchestra, Berliner Philharmoniker and Rundfunk Chor Berlin. At New York City's Lincoln Center for the Performing Arts, he was recently one of several conductors for David Lang's 1,000-voice the public domain, working under his mentor Simon Halsey; he returned as chorusmaster for the 2018 premiere of John Luther Adams' In the Name of the Earth.
A native of Texas, Anthony Blake Clark attended Baylor University School of Music, studying composition with Dr. Scott McAllister and conducting with Dr. Lynne Gackle. He was a member of the prestigious Baylor A Cappella Choir and, in his final year, served as a conductor of the Baylor Chamber Singers. While still an undergraduate, he began his conducting activity by co-founding The Texas Baroque Ensemble, presenting in and around San Antonio a wide range of repertoire from the Baroque and Classical eras. Mr. Clark completed advanced conducting studies under three-time Grammy Award winner Simon Halsey, CBE at the United Kingdom's University of Birmingham, which conferred his Master's of Music Degree in 2015.
Click here to read about our commitment to American music.
Click here to read about our commitment to cultural diversity.
Board of Directors
Richard A. Dellheim
President
Anne Bear Powell
Vice President / Secretary
Dennis P. Cole
Treasurer
Sandra D. Boyd
Vice President
Gordon H. Glenn
Vice President
Carmen M. Fonda
Vice President
Lauren Madsen
Vice President
Mike Anselmi, Jr.
Jeffery A. Austin
Polly E. Behrens
Ellen N. Bernard
Andrew Erman
Nathanael D. Hartland, Esq.
Charles KonKolics
Karen Malecki
William H. Martin
Susan R. Maseth
Ryan B. Moran
Arnold Paskoff
James Piper III
Russell R. Reno, Jr., Esq.
Peter V. Savage
P. David Sowell
Alan Sweatman, M.D.
Staff