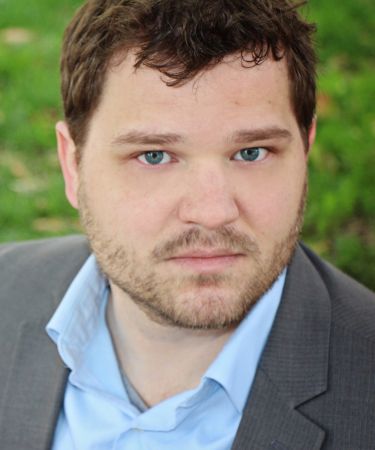 Michael Rickelton
Assistant Conductor
Composer, vocalist, and educator Michael Rickelton has been active in Baltimore's music community for the past 15 years. He performs regularly with organizations in Baltimore and the Washington, DC metro area, and has recorded as an ensemble singer and soloist with Naxos, Decca, and Gothic Records.
An accomplished composer of music that "seizes the ear" (Gramophone Magazine), Michael has a powerful and critically acclaimed affinity for the voice. Composer Lori Laitman described Michael as having "a great and clear gift for writing for the voice," and BCAS Music Director Emeritus Tom Hall described his music as "engrossing, engaging, and consistently compelling." His music has received honors from ASCAP, American Composers Orchestra, The American Prize, Bluffton College, Gregg Smith and Syracuse University, Ithaca College, Lipscomb University, Meistersingers, Southeastern Composers' League, Pacific Chorale, and The Peabody Conservatory. His music has been featured in performances and readings by ensembles such as the Baltimore Symphony, Nashville Symphony, Pacific Chorale, and the Choir of the Washington National Cathedral.
Recordings of Michael's music have been released by Albany, Delos, and Petrichor Records. The "extremely attractive and thoughtfully shaped" (Music Web International) Time and Memory (Albany) includes Impossible Season, Michael's first collaboration with Dana Gioia, recent California Poet Laureate and former Chairman of the NEA. Michael also set Gioia's "Pentecost," which received the Gregg Smith Choral Composition Award, was the winner of the Pacific Chorale Choral Composition Contest and was recorded by The John Alexander Singers on their American Voices album with Delos Records.
Michael is a devoted music educator, serving on the faculties of The Peabody Conservatory, the JHU Krieger School of Arts and Sciences, Towson University, and Loyola University Maryland. He also maintains a private teaching studio and is lead composition tutor at Go Compose North America, an organization offering workshops and opportunities for young composers.
Prior to his arrival in Baltimore, Michael worked as a musician and teacher in Nashville, performing regularly with the Nashville Symphony and conducting several youth and liturgical choirs. He holds degrees from The Peabody Conservatory (D.M.A, M.M.), and Lipscomb University (B.M.). He makes his home in Baltimore with his wife and two sons where he can also be found coaching youth baseball.