Sunday, November 03, 2019
An American Suite: From Billings to Bernstein
TICKETS WILL BE AVAILABLE FOR PURCHASE AT THE DOOR. BOX OFFICE OPENS AT 1:30 PM.
Click HERE to read our program book for the performance.
The season begins with a new American Suite, curated by Music Director Anthony Blake Clark. You will explore American choral music, from William Billings in the 18th century to the legendary Leonard Bernstein and beyond.
Leo Wanenchak, Associate Conductor and Organist
:
Henry Balfour Gardiner - Evening Hymn
Zoltán Kodály - Laudes Organi
American Suite, curated by Anthony Blake Clark
William Billings - Invocation
Traditional, arr. Alice Parker - Hark, I Hear the Harps Eternal
Susan LaBarr - Grace Before Sleep
Eriks Ešenvalds - Stars
David Conte - The Composer
Anthony Blake Clark - Higher Ground
Bono, arr. Bob Chilcott - MLK
Aaron Copland - Zion's Walls
Leonard Bernstein - "Make our Garden Grow" from Candide
.
.
There will be a pre-concert Choral Conversation inside Shriver Hall Auditorium at 2 pm.
This concert is assigned seating. Please refer to the seating chart for more information.For accessibility needs, please call the box office at 410-523-7070 ext 301.
.
.
Photo Credit: Bert Bial; Courtesy of the New York Philharmonic Leon Levy Digital Archives
This concert is the 23rd Annual Ruth Blaustein Rosenberg Concert.
Additional support is provided in memory of Tanya Bendit through the Bendit Foundation, Inc., a supporting foundation of The Associated: Jewish Community Federation of Baltimore.

Media Sponsor:

Notice: Baltimore Choral Arts Society, Inc. has leased or rented facilities from the Johns Hopkins University. However, Baltimore Choral Arts Society, Inc. and any programs operated by Baltimore Choral Arts Society, Inc. are not related to or affiliated with the Johns Hopkins University in any way. Baltimore Choral Arts Society, Inc. is an entirely separate legal entity with no connection to the Johns Hopkins University aside from
the temporary use of facilities for the specified program.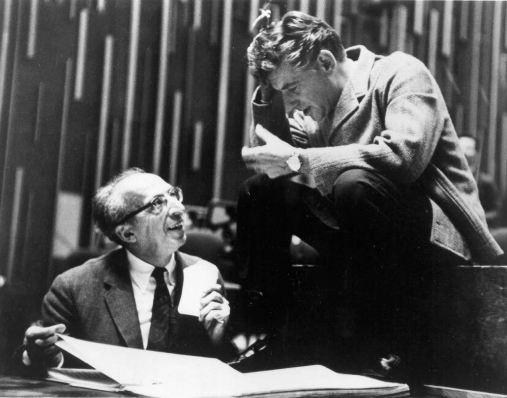 Shriver Hall Auditorium, 3:00 PM