Sunday, March 01, 2020
Monteverdi Vespers
*THIS CONCERT IS SOLD OUT*
Baltimore Baroque Band, Peabody's Baroque Orchestra - Dr. John Moran and Risa Browder, co-directors
Peabody Renaissance Ensemble - Mark Cudek, director
Washington Cornett and Sackbutt Ensemble - Michael Holmes, director
Maryland Institute College of Art's James Rouvelle and Lili Maya, artists

Composed for St. Mark's Basilica in Venice, Monteverdi's 1610 Vespers is the most ambitious and spectacular composition written before Bach. In Baltimore Choral Arts' second collaboration with MICA, Professor James Rouvelle and Lili Maya will add multi-sensory images to further illuminate this grand and expressive masterpiece.
Claudio Monteverdi - Vespro della Beata Vergine
.
.
There will be a pre-concert Choral Conversation inside Shriver Hall Auditorium at 2 pm.
This concert is assigned seating. Please refer to the seating chart for more information.For accessibility needs, please call the box office at 410-523-7070 ext 301.
Limited free parking is available in the Wyman Lot, directly across the street from the South Garage entrance off Wyman Park Drive. There is also street parking available.

Paid parking ($10 cash only) is available at the South Garage, off Wyman Park Drive, at the driveway where the signs read BOWMAN DRIVE and VISITOR AND MUSEUM PARKING.
Monteverdi Vespers is generously sponsored by the William G. Baker, Jr. Memorial Fund, creator of the Baker Artists Portfolios, www.BakerArtists.org.
.
.
Notice: Baltimore Choral Arts Society, Inc. has leased or rented facilities from the Johns Hopkins University. However, Baltimore Choral Arts Society, Inc. and any programs operated by Baltimore Choral Arts Society, Inc. are not related to or affiliated with the Johns Hopkins University in any way. Baltimore Choral Arts Society, Inc. is an entirely separate legal entity with no connection to the Johns Hopkins University aside from
the temporary use of facilities for the specified program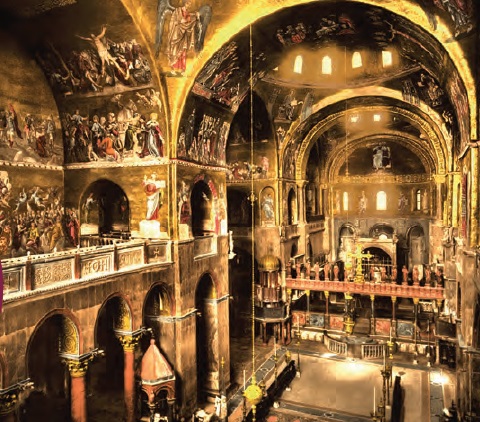 Shriver Hall Auditorium, 3:00 PM