Baltimore Choral Arts Announces our 58th Season
Jun 14, 2023
Baltimore Choral Arts explores works of great
resonance
for the 23-24 season with a three concert subscription series. This year's music will resonate in audiences' heads and hearts with breathtaking melodies and powerful texts.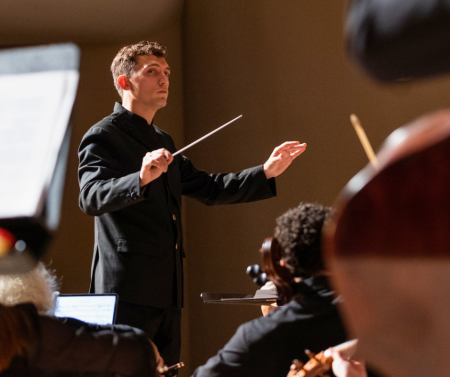 Music Director Anthony Blake Clark says, "The music in this season will resonate with our Baltimore community and beyond, exploring the full breadth of human emotion. We're starting the season with an intense and poignant program, pairing Joel Thompson's Seven Last Words of the Unarmed with the Brahms Requiem. Thompson's piece illuminates the relevance of the emotions found in the Brahms by pointing us to the current epidemic of gun violence, particularly such violence perpetrated against black men. Choral music is a perfect medium for encountering these stories and for inspiring change and action.

"Then, later in the season we see the complete opposite side of the emotional spectrum with immense joy and praise in two different versions of the Magnificat by Bach and Rutter, featuring soloists from Bach Vespers at Holy Trinity in New York City. In between these concerts we have Christmas with Choral Arts and a number of exciting collaborations with symphonic orchestras in the region. We are thrilled to present this season for you and look forward to a year of truly resonant music-making."
The first concert of the season, Human Requiem, will be performed at 3 pm on Sunday, November 5th at Shriver Hall Auditorium at the Johns Hopkins University.
Choral Arts launches the season with a powerful program that is sure to resonate, alternating movements of the Brahms Ein Deutsches Requiem with Joel Thompson's Seven Last Words of the Unarmed. The music will be accompanied by dazzling projections by Camilla Tassi, which will come together to create an immersive and unforgettable audio-visual experience.
---
The concert season continues with Christmas with Choral Arts, a 30-year Baltimore tradition, at the Baltimore Basilica of the Assumption on Tuesday, December 5th at 7:30pm.
Baltimore audiences know and love this cherished holiday program, featuring exquisite music, dramatic readings, and festive sing-alongs. This concert will be performed live at the Basilica and recorded for later broadcast on Maryland Public Television, WBJC and WYPR, spreading Christmas cheer throughout the Baltimore region.
---
Praise, Magnified: Sunday, March 17 at 3 pm at Shriver Hall Auditorium
The final subscription concert of the season will contrast two different settings of the Magnificat in Praise, Magnified at 3 pm on Sunday, March 17th at Shriver Hall Auditorium.
This concert explores two contrasting settings of the Magnificat: the J.S. Bach classic from 1723 and John Rutter's masterful reimagining of the canticle, circa 1990. This performance will undoubtedly inspire audiences: Rutter described the Magnificat as "a poetic outpouring of praise, joy and trust in God."
---
Tickets for each concert are available individually or as part of the three-concert subscription. Learn more
Click here to view our digital brochure