Choral Arts Announces Anthony Blake Clark as Its Next Music Director
Mar 10, 2017
Baltimore Choral Arts Society Board President Richard Dellheim today announced the appointment of Anthony Blake Clark as the organization's next Music Director, effective July 1, 2017. A conductor and composer, Blake Clark has led choral and orchestral ensembles in the United States and Europe, and his works have been widely performed. He will become Baltimore Choral Arts' third Music Director in its 51-year history, succeeding long-time Music Director Tom Hall, who will retire from the position at the end of June. Mr. Clark will immediately begin planning Baltimore Choral Arts' 2017-18 season, the details of which will be announced later in the spring.

In announcing the appointment, Richard Dellheim said, "Blake Clark is a top-notch talent and rising star. He is a great fit for our magnificent chorus, and we know our audiences will be thrilled by his artistry."
In accepting the appointment, Music Director Designate Anthony Blake Clark commented, "I am overjoyed to be the next Music Director of Baltimore Choral Arts and I cannot wait to start this important work with this excellent chorus." He added, "I am looking forward to continuing the legacy that Maestro Tom Hall has established, and I am honored to take on the sobering charge to continue building the reputation that Baltimore Choral Arts enjoys."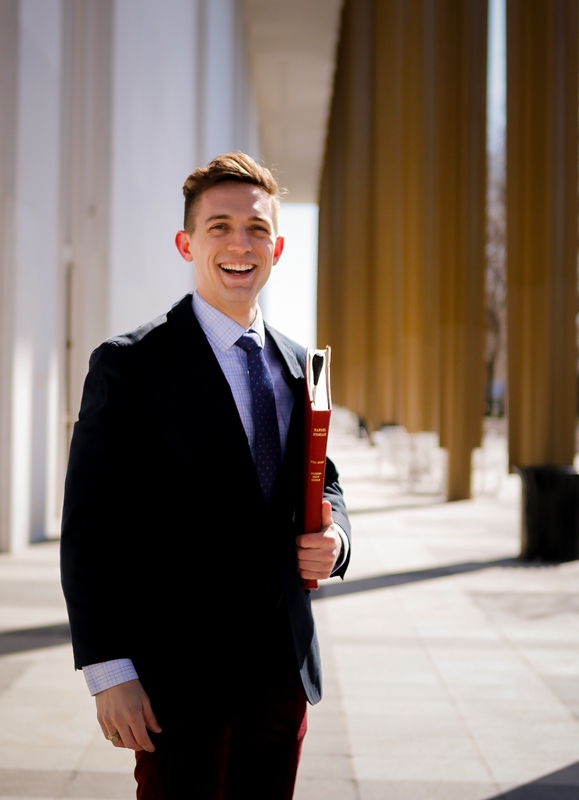 Photo by: Stan Engebretsen
Anthony Blake Clark

Conductor and composer Anthony Blake Clark has led ensembles in the United States and Europe, and his compositions have been heard across the country as well as in the UK, and the Czech Republic. He has prepared choruses for Sir John Eliot Gardiner, Simon Halsey, Gijs Leenaars, and Julian Wilkins, for performances with prestigious ensembles including the Berlin Philharmonic and the Berlin Radio Choir. Recently, Clark was the assistant chorus master for the Berlin Philharmonic's performance of Stravinsky's "Oedipus Rex" under the baton of Sir John Eliot Gardiner.
Blake Clark has conducted the London Classical Soloists, and he was employed by the City of Birmingham Symphony Orchestra (CBSO) to conduct the Arts Champion Community Choir as part of an initiative to create a CBSO-sponsored community chorus. At the invitation of his mentor Simon Halsey, Clark also conducted the London Symphony Chorus for a portion of their annual day-long Come and Sing Day. An active participant in festivals, Clark was granted a Fellowship to conduct in the Yale School of Music's Norfolk Music Festival, led by conductor Simon Carrington, with whom he also worked at the Sarteano Workshop in Tuscany. Clark recently co-founded the Affinitas Summer Choral Course in the UK where he will be in residence this August, conducting and coaching beginning-level conductors, singers and composers in Worcestshire, England.

Blake Clark is also very active in the U.S. Last summer, he was one of several conductors leading the massive work for 1000 voices, "the public domain," by David Lang, at Lincoln Center, working under his mentor Simon Halsey. This June, Clark will make his debut with the Symphony Orchestra of Northern Virginia, conducting Beethoven's "Choral Fantasy" and a world premiere by Brian Wilbur Grundstrom. Currently a resident in the DC area, Clark holds the post of Director of Music and Worship Arts at the Chevy Chase United Methodist Church where he leads the Sanctuary Choir, and he is Artistic Director of the Soundings Concert Series. Clark is also Artistic Director of St. Maries Musica, a chamber choir in Southern Maryland, as well as serving as Ensemble Director of the Richmond Women's Chorus.

Clark's first major conducting activity began while still an undergraduate; at age 21 he co-founded The Texas Baroque Ensemble. He conducted the group's premiere performance of Mozart's Requiem in San Antonio, Texas, followed by a 4-city tour performing Handel's Messiah. A Texas native, Anthony Blake Clark received his Bachelor's degree from Baylor University School of Music, where he studied composition and conducting, then moved to England and completed a Master's degree in conducting, studying with Simon Halsey and Julian Wilkins at the University of Birmingham. While in England, Clark sang in the City of Birmingham Symphony Chorus and performed under acclaimed conductors including Sir Simon Rattle and Andris Nelsons.

Also an active composer, Anthony Blake Clark's music has been performed by the National Philharmonic Chamber Singers in Chevy Chase, MD, and his chamber piece, "Incidental Music on the Pied Piper of Hamelin," was performed in the Dvorak National Museum Concert Hall in Prague, Czech Republic.